What are my top 5 most requested newborn photos?
Are you wondering what the top 5 most requested newborn photos are? What are your top 5 dream photos? It's a truly magically moment bringing a newborn into the world. Every brand new Mother and Father want to cherish those memories forever. Babies change and grow so quickly, those fleeting newborn features just don't last. I'm often asked how many photos will I receive?
How many photos will I receive with my newborn photography package?
Bee Cherished Photography are located in Caboolture on Brisbane's Northside. Every newborn session is unique and personally tailored towards the comfort of your baby and personal requests. During a newborn session I aim for a variety of timeless newborn photos with a mix of family and the use of props. I usually upload between 40 to 50 images from each session. Within 2 weeks I will send you a link to an online private gallery for you to select your favourites. So are you wondering what are the top 5 most requested newborn photos? My very favourite photos are always from the following. These top 5 newborn photos are selected almost every time.
 What are the 5 most requested newborn photos?
Newborn baby with both parents – A beautiful emotive tight crop showing all the love and two very proud parents
Mother and her newborn baby – There is nothing quite the same as the love a mother has for her newborn baby
Daddy and his newborn baby – Becoming a parent for the first time makes us fall in love with our partners even more
Our newborn baby pure and simple – A timeless image of your newborn baby that never dates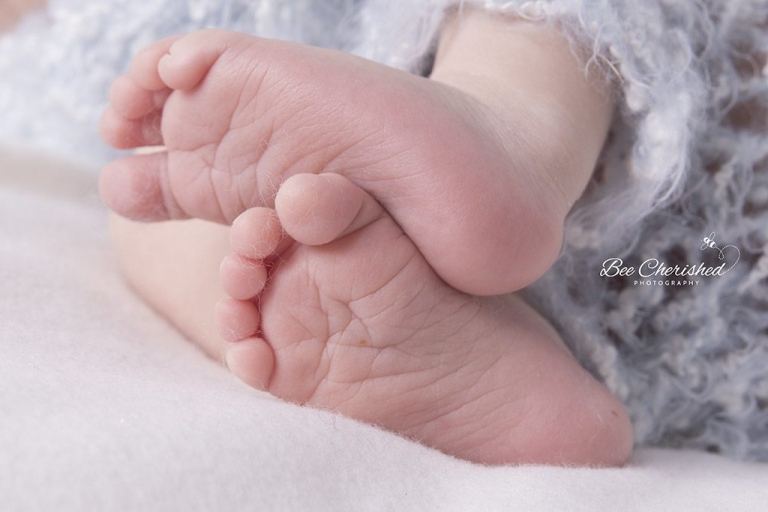 Newborn Feet – Yes it's true I'm not the only who adores tiny baby feet
Newborn family and sibling photos
Of course if you are lucky enough to already have other children family photos would be included in your top 5. With a diverse selection of photos available in your online gallery you're sure to find the perfect top 5 photos to suit your family. I love seeing printing photos and beautiful albums. One of my favourite things about being a newborn photographer is seeing your final package with your selection of photos. It never gets boring when wall art arrives with your favourite photo. I'm definitely on a mission to make sure you have beautifully archival printed images to share with your family and friends. Gorgeous newborn photos are too precious to be forgotten on a USB in a draw. Please print your images and share them with your children it's the most wonderful way to improve their self esteem.
If you've enjoyed seeing the most requested newborn photos by Bee Cherished send an enquiry below
Thanks for stopping by. If you're looking forward to welcoming a new baby soon I'd love to hear from you and find out what photos you'd like during your session. You are most welcome to call for a chat anytime. I'm Tracy and I can be contacted on 0412996891
North Brisbane Maternity and Newborn Photography Bee Cherished Photography are located in Caboolture