Belly castings are the most unique belly keepsake you'll own. I love pregnant bellies! I think creating a baby human is the most amazing thing you'll ever do. Recently I had the pleasure to photograph two pregnant belly maskings in action. If you're having a baby in 2020 this is the most sentimental idea, imagine having a life size memory of your baby belly? Alicia from TLC castings creates the most precious belly masks. Watching this amazing woman produce works of art was so much fun! And maybe a tad messy! This wonderful artist is not only incredibly talented she is also a Mum in business. Alicia has an awesome positive attitude and her smile lights up the room.
High definition belly castings
The hands over belly mask requires a high definition product where the substance is poured over the pregnant belly and scooped and layered over area until it is just about to set.  Then multiple layers of bandages are applied to form a hard outer layer shell. It is then filled with stone. Generally this type of casting is more expensive and the price depends on size of pregnant belly and desired finish. 
Pregnant belly masking
The technique being used here, is masking using bandages and is a much faster process.  The finished product is much lighter if you're keen to display as wall art.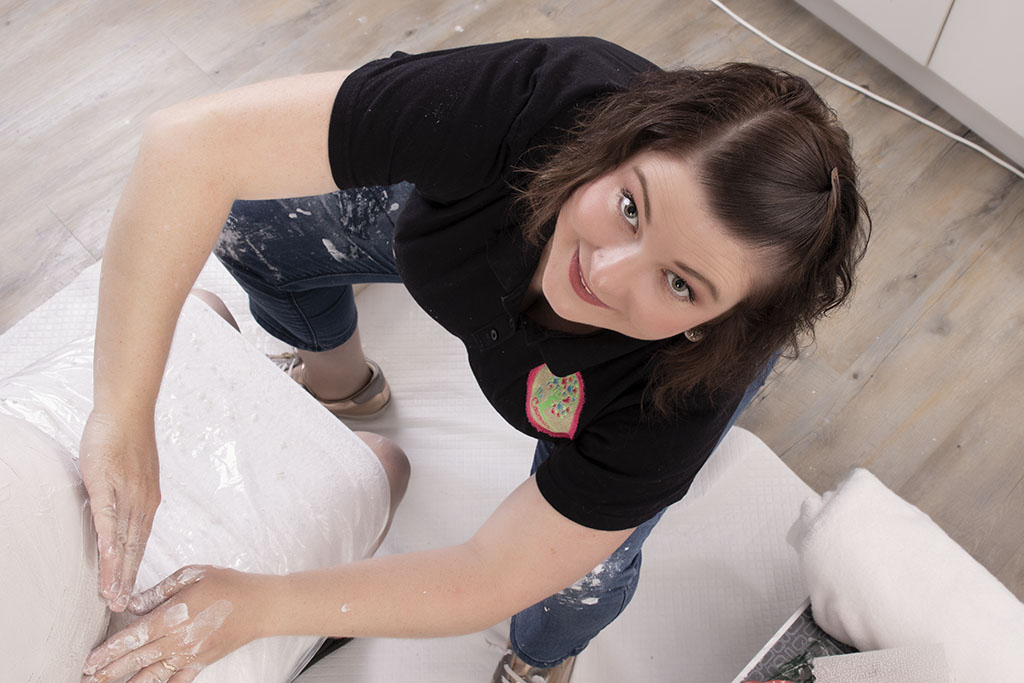 Looking for baby shower gift ideas?
Whether you're pregnant or a family or friend is having a baby TLC have the most amazing gift ideas. Alicia offers a wide variety of casting services for babies, families, sibling, pets, wedding hands and pregnancy belly castings. Gift voucher are also available.
Belly Castings and 3D sculptures
Alicia has been creating unique keepsakes for families to treasure, since 2012. She has successfully combined her creativity & love for sculpture art into a thriving and respected business.  Each keepsake is personally made by Alicia with love, care & attention to detail. Located in North Lakes Brisbane TLC offer a lifetime manufacturer's guarantee on all products. If you're looking to book castings for your newborn or pregnant belly castings contact Alicia from TLC Castings
Newborn photos taken with belly masks
Both Mummies re visited Bee Cherished Photography for a few newborn photos with their belly masks. I love to support other women in business. I have so much confidence and pleasure to recommend Alicia's services. It was such a pleasure to watch, learn and photograph the entire procedure. Megan and Emily fell in love with their precious family heirlooms. I can only imagine how surreal it is to show your 18 year old baby the very beginnings of their journey. I was fortunate to photograph both maternity's, the belly castings and then newborns. Like Alicia seeing the love in a Mother's eyes as you deliver a finished product makes my heart sing and is the very reason I love my job. I honestly have the best job ever. To wake up excited everyday and love what you do is the very best feeling.
Interested in booking newborn photos for your newborn castings please visit Bee Cherished Photography's newborn gallery
Thank you to Megan and Emily for being a part of this creative journey! Congratulations to Alicia, I love your work! Wishing you all the very best for your casting business.