Are you looking for elegant maternity photos?
Do you love soft muted colours and elegant maternity photos? Soft lighting and back lit photos look amazing with creams, golds and soft pinks! What a pleasure it is to photograph pregnancies. I feel so fortunate to meet these gorgeous Mummies and capture this very special time. This is a recent photo shoot I couldn't wait to share. How beautiful is Amy? Congratulations on being pregnant and thank you for travelling to my Caboolture studio!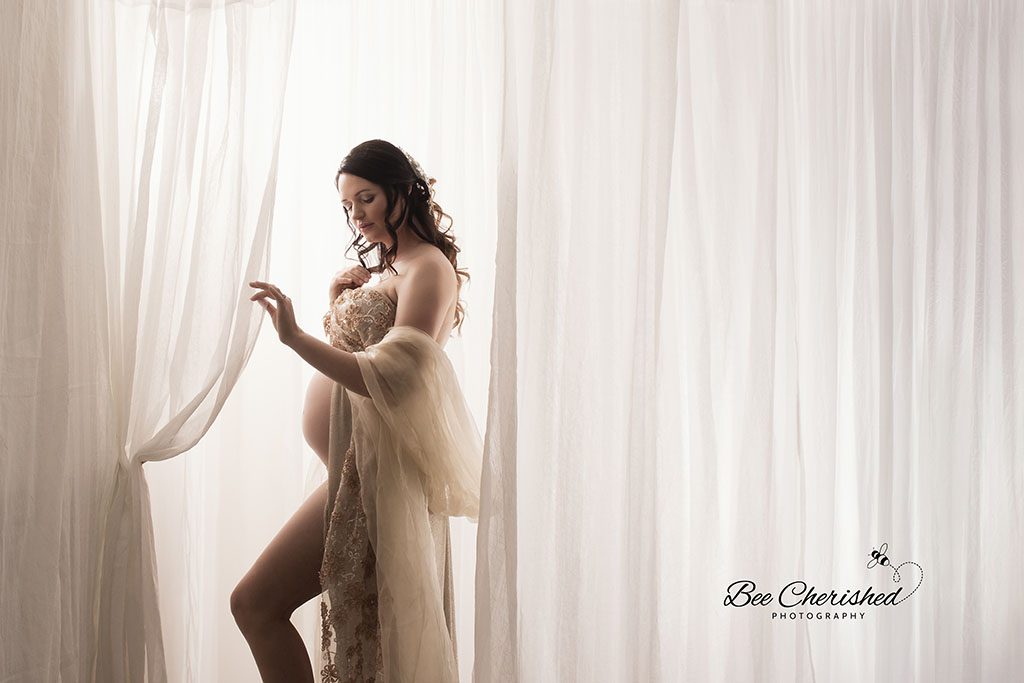 Studio maternity portraits | Brisbane Northside
I love simplicity and elegant maternity photos. There is something very special about capturing the love between a mother and her unborn baby. Pretty soft lighting and classic colours have really created gorgeous photos. Having such a stunning mother in the studio with such great posture and flexibility made my job so easy. Staying fit and healthy really makes a difference during the third trimester.
When is the best time to have pregnancy photos?
I'm often asked when is the best time to photograph pregnancy photos? This varies with each woman and every pregnancy. I've photographed beautiful round bellies at 28 weeks and other little bumps at 39 weeks. If this is your 1st pregnancy it may be difficult to know when to book your maternity photos. I recommend anytime between 32 to 36 weeks is ideal or as soon as your belly is a beautiful round shape. Please don't leave your photo shoot until the last weeks as your little baby may have other plans and arrive early.

How to choose a maternity photographer that's right for you
Look at their style and galleries – do you love their photos?
Will you feel comfortable having photos taken by them? – it's so important to enjoy your photography session and feel relaxed and comfortable
What sort of maternity packages are available and do you love the products?
I believe if you pay for a professional photographer you deserve a professionally printed archival product to enjoy
For more information please visit here
I am so fortunate to be a part of an amazing group of talented photographers who are inspired by life and capturing it's beauty with photography. This is a monthly circle blog.  Please take time to visit the very talented and creative  Channon to see what she has for you this month. Keep following the circle to see what the other photographers have shared this month. Don't forget to leave a little love on their pages.