Why spend a fortune on maternity dresses for a photo shoot? Would you love to look amazing for your maternity photos without wasting money on something you'll only wear once? Becoming pregnant is one of the most amazing milestones in your life. Celebrate your journey to motherhood with beautiful photography. Looking for something very special to wear you'll love? Worried what will fit? Wondering what looks good in photos? I have maternity dresses available in all sizes to suit any shape.
Dreamy Maternity dresses you'll love
Bee Cherished Photography have the perfect look available in studio. Save yourself time, money and the stress of looking for maternity outfits for your photos. I have unique custom pieces that look stunning in photos. Whether you're looking for full length, sheer lace or short and stylish. I have the style to suit. Having a love for pregnancy bellies has driven me to find the perfect dresses.
Advice on what to wear for your maternity photography
Your maternity photos should be a reflection of who you are and personality type. Whilst there's nothing wrong with stepping out of your comfort zone to create your dream photos. You should feel comfortable and relaxed. Wearing your favourite colour tones is a great place to start. Add a touch of texture for interest. This could be pretty lace, flowers, fur or bling accessories. Are you wanting casual photos or after more formality? How comfortable are you showing skin? Are you conservative? Maybe you're a romantic at heart and adore soft flowing fabrics. These are all great questions to consider.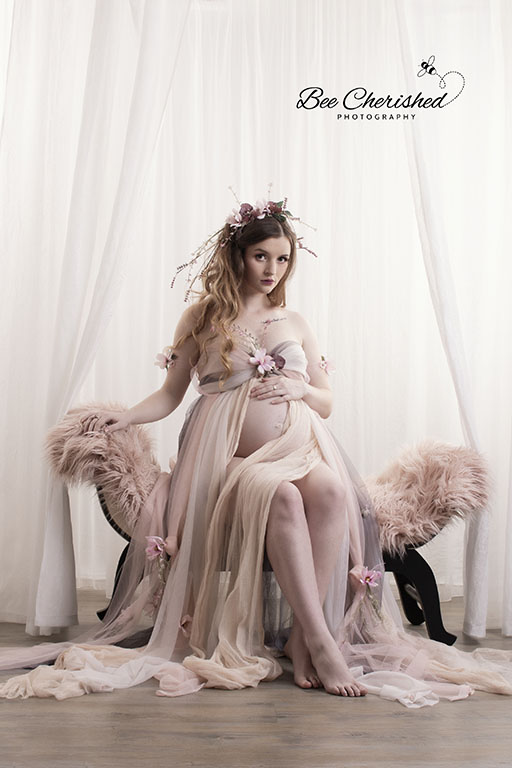 Tips what not to wear for your maternity photos
When you look back on your maternity photos I want you to be proud. Photographs are memories that become more valuable with time. Your children will love to hear stories about your pregnancy and what you looked like. How did you feel? I have a favourite saying " less is best" or "when in doubt leave it out" Timeless images are simplistic. The focus is all about you, not your clothing. For this reason I recommend
avoid logos and text on clothing
forget those bright loud colours and busy patterns
remember to remove your sunglasses, phones or other items from pockets and hair ties
Wrinkled clothes (it's so worth spending 5 minutes to run an iron over your outfit)
mismatched outfits (this could be colour tones or casual verses formal)
bad socks or dirty feet (yes it's a thing)
chipped nail polish
bad fake tans (you know those yellowy elbows and hands cannot be fixed)
Suggestions for men to wear for pregnancy photos
It's important to remember the men during your maternity photography. I want them to feel comfortable and enjoy the experience. These memories are important to them as well. Often it's the men who will be feeling on the outer and perhaps not as keen to be in front of a camera. I have maternity dresses available in different colours. If you love a particular outfit then choose a similar colour tone top for your partner to bring along.
Plain or solid tops or small patterns are great for button up shirts
You can't go wrong with neutrals ( cream, grey, beige or khaki tones)
Long sleeve buttoned up shirts will suit a formal look
t-shirts and singlets will offer a more casual feel
Ideally a one light top and 2nd darker choice will give you more options to suit any backdrop
Please bring long pants rather than shorts if possible (jeans, chinos or dress pants)
Should I wear shoes?
Negotiating heels during pregnancy can be a challenge for some women. Most women I photograph have bare feet. You are very welcome to bring along shoes but it's not necessary. If you are bare footed in your photos then your partner should be too. We want you to both wear shoes or no shoes. Your pregnancy photos should make sense and be comfortable for you to move around and pose comfortably and naturally.
How to choose the right outfit for my toddler to wear to maternity photography
This should be the easiest part of planning what to dress your family in. You'll find so many affordable options available. Remember to keep things simple. Keep to similar colour tones for the entire family. Make sure the clothes you choose are comfortable and cover nappies if needed.
For little girls – tulle dresses look great with back lighting. Lace or fur for texture. Adding a flower for the hair can be cute
For little boys – jeans or cute chinos matched with soft muted tones, throw in a hat or suspenders for character.
Lace maternity dresses or looks available
My most requested look is white lace maternity dresses. Definitely very popular. This is also my favourite style. Simple, elegant and so timeless. Suits any pregnancy shape. Teamed with soft beautiful back lighting it is the most flattering to any skin type. And I have so many options available. Fully covered white lace maternity dresses or custom made lace options. Add a touch of bling and you have classy. Bring in beautiful flowers and romance is present. Used for implied nudes and your photos will be sexy. What ever your personality white lace offers variety. Fresh crisp whites team up with so many colours for your family or partner to wear. Blends with any colour backdrop and so versatile for different lighting.
What colour tones look great for maternity photos
Did you know the use of colour in photos can completely change the emotion? Colour is one of the most important factors and often not even a consideration. Colour tones create mood and emotion, warmth and coldness. Colours can draw attention to certain areas of a photo. Used well colour will hold a viewers attention. It is so important when creating drama. Whatever colour you love keep in mind colour harmony.
Things you must know about maternity dress colours
Dark clothing tends to make the body look more slender
Lighter colours and lighting uses well can also slim
Autumn tones represent warmth
Cooler colours are blues and greens
Red is the colour of passion
Pinks are often used for romantic and feminine
Whites portray purity, spirituality and goodness
Blue is associated with confidence, trust and wisdom
Grey is timeless, sophisticated and formal
The best fabrics for maternity dresses
As a photographer I look at fabrics differently. Textures can turn ordinary into extraordinary. When I choose fabrics to purchase for the studio I consider several things. Colour is not the only important factor for a great maternity dress. Weight is so important, fabrics should flatter your body and not add bulk. It needs to be comfortable and light so you can move freely. Sheer fabrics are stunning for back lighting. Natural fabric textures not only photograph well, they edit beautifully. Soft and silky drape romantically. Lace creates romance, sexiness or innocence. It is hands down my favourite. Shimmery fabrics add glamour and sophistication. Tea dyed cottons will add a touch of vintage.
When it comes to choosing the best maternity dresses the options are endless. Why not leave it to your photographer to help you decide what's the right choice for you. I know maternity photography styling, lighting and colours so well. Trust me to create a maternity look you'll love.
Studio maternity photography gallery
Thank you for considering Bee Cherished Photography for your dream pregnancy photos