Newborn Photography Brisbane Northside | Baby Jude
I'm so excited to share one of my recent newborn photography sessions of adorable baby Jude. So tiny and so perfect! Soft and velvety skin with newborn wrinkles. The cutest button nose and gorgeous baby hair! You couldn't possibly be any cuter.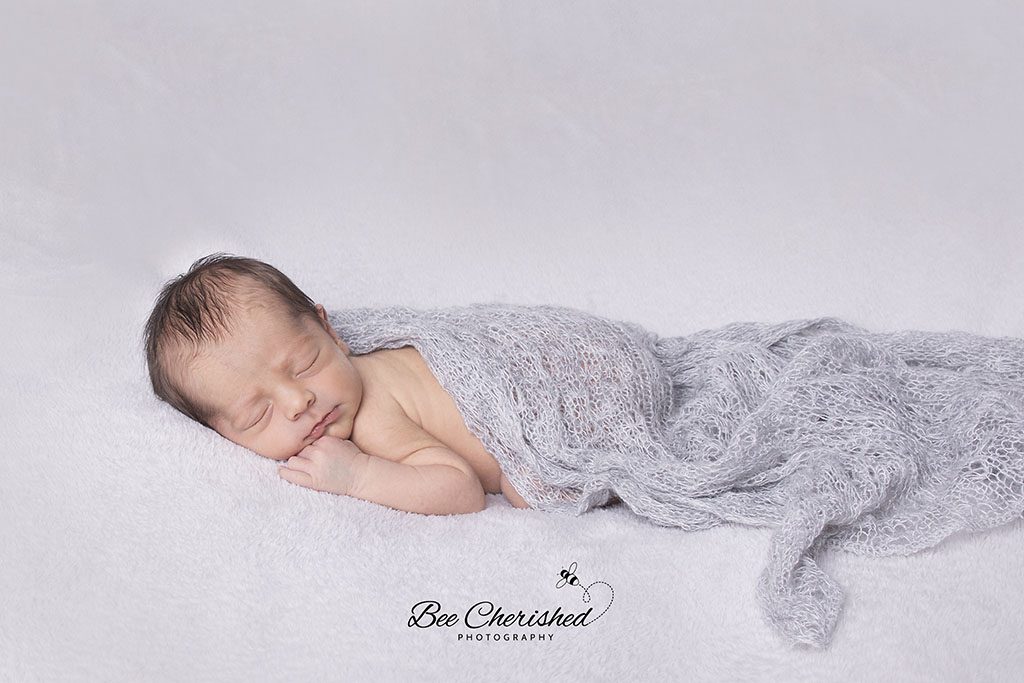 Newborn photography Caboolture
Bee Cherished Photography is located in Caboolture on Brisbane's Northside. Only five minutes from the highway and easy to find. Newborn photography in a relaxed comfortable environment. Our studio is home to everything you need for your newborn photography session. Little baby Jude was photographed in soft grey with touches of navy blue. I love to use soft muted colours and neutrals with newborn babies. Newborns change so quickly, how precious are these curly newborn photos with those tiny wrinkly feet. Fleeting moments you'll cherish forever.
Frequently Asked Questions | Newborn Photography
When is the best time to have newborn photos taken? Anytime under 2 weeks of age ideally between 5 to 7 days old
Do you include parents and family? Yes I love to include parents and siblings during your session and sometimes grandparents as well
When should I book? After your 20 week scan is a great time to secure availability on our calendar 
What should I wear? Wear something timeless, plain soft muted colours photograph well with many parents choosing white or black
How long before I see the photos? You'll receive a sneak peek within 24 hours and your online gallery will be available within two weeks
How long before I can collect my package? Depending on your products chosen your package may take 2 to 4 weeks to be ready for collection

Newborn Photography Studio Brisbane Northside
Are you having a baby in 2019? I'd love to meet you and your family and create precious memories for you to cherish. If you love newborn photos and are keen to book a session send an email to tracy@beecherished.com or you're very welcome to phone for a chat on 0412 996 891
Newborn Photography Brisbane Northside | Newborn Photographer Brisbane Northside
This is a Monthly circle blog … I am so fortunate to be a part of an amazing group of talented photographers who are inspired by life and capturing it's beauty with photography.   Please take time to visit the very talented and creative Brandi  to see what she has for you this month. Keep following the circle to see what the other photographers have shared this month. Don't forget to leave a little love on their pages.