What are the benefits of yoga during your pregnancy?
Pregnancy yoga with Trudy
As a photographer I have the pleasure to meet many people from all walks of life. It's no secret I will often notice during a photo shoot pregnant Mummies who either enjoy yoga, Pilates or may be dancers. I have an eye for detail and these ladies know how to naturally hold themselves and makes my job easy. Over the years one name has continually been mentioned as the most amazing yoga teacher. Trudy is a well known and highly respected local yoga teacher. Without ever meeting Trudy I already liked this woman and had a huge amount of respect just by listening to her yoga students speak about her. Her reputation as an amazing pregnancy yoga teacher and her positive attitude and infectious laughter doesn't disappoint. I've photographed several of her pregnant Mummies recently and it prompted me to make contact. I feel privileged to have met Trudy and excited to start helping Trudy with my photography. What an inspirational woman and I love her passion and enthusiasm. Trudy is providing the most amazing support and education for pregnant women.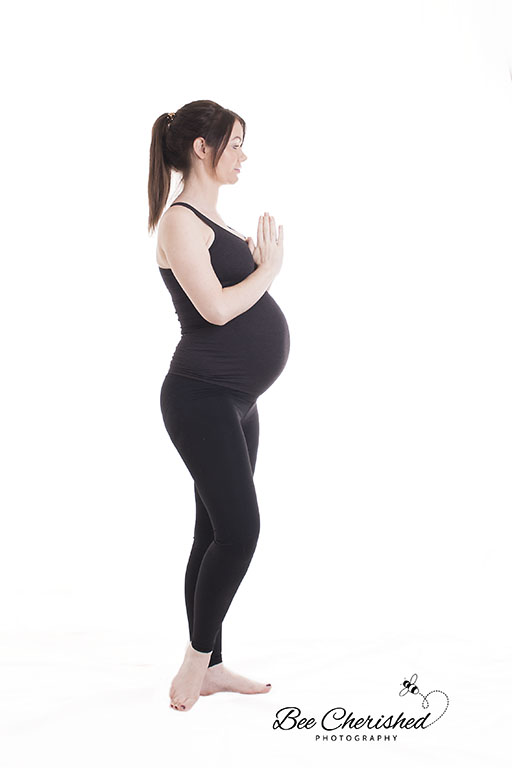 Pregnancy yoga can be so beneficial during your pregnancy and post
Do you know how many different classes are available in Burpengary with Trudy for pregnant women and their partners?
The benefits of yoga during your pregnancy are many. Yoga helps during your pregnancy, birth and recovery not to mention the positive mental influence and confidence you will feel. Trudy's classes are so very welcoming and very affordable. I highly recommend Trudy and you won't regret booking in for any of Trudy's classes.
What does yoga pregnancy look like?
Have you ever thought about taking a yoga pregnancy class? Are you wondering what it's like? These photos were so much fun to take and represent a small snippet of what a pregnancy yoga class looks like. If you're wondering if you'll enjoy it the answer is definitely yes if Trudy is taking your class. I'm sure  you couldn't stop this wonderful person smiling and spreading happiness. Her enthusiasm and her passion to support, encourage and educate pregnant women is unstoppable. Trudy is also a birth doula and a spinning babies parent educator. Her intriguing journey towards her chosen path makes perfect sense and it's easy to see why she is so successful and loved by so many. Trudy you are an amazing person and you have changed so many women's birth stories into memorable treasured moments with your support. I am so pleased to share your talented work and love for helping women. Congratulation on your achievements.
The following is Trudy's story in her own words
How Trudy became a pregnancy yoga teacher
I became a Pregnancy Yoga Teacher and a Birth Doula because of the way I was treated and the things that I went through with the births of my own children.  My births was traumatic and even though I am ok with it now – its been 22 years and 19 years now – I sometimes still have a word or a thought come back to me and I wish that I had had the support from someone that I give to pregnant women everyday.
We only had yoga on tv, I had never heard of pregnancy yoga until I became a Yoga Teacher myself in 2013.  I had booming classes that were full every single week with people from all walks of life, but whenever a pregnant lady would turn up I would not refuse her in class, but kind of freeze inside wondering if her baby was ok with the poses we were doing.
Pregnancy yoga specifically tailored to your pregnant body shape with Trudy
I had the very basic of pregnancy yoga trainings, and I felt that this wasn't enough so I went searching for something, anything that would give me more than a weekends training. You see the pregnant body is so different to ours, and many yoga poses – modified or not – can be harmful to mother and baby.
Finally I found a course that would take 6 months of inclassroom (every second weekend) and researching and homework, it was one of the most intense courses I have ever done and I am so glad that I did.  I am actually the only Pregnancy Yoga Teacher between Chermside and Maroochydore (that I know of) and im very proud of the studio and the work we do in there.
Essentially  Pre Natal / Pregnancy yoga classes are dedicated to women from 14 weeks gestation to full term to tone, relax and strengthen their body during their pregnancy.
This is such a wonderful opportunity to meet and discuss pregnancy related topics with other women and take one hour of your day 'just for you and your baby'.
Pregnancy yoga techniques by Trudy
You will learn techniques to stretch, breathe, relax, visualise, preparation for birth and connecting with other mothers in the room.  I teach moves and postures that are suitable to pregnancy, safe for you and safe for baby and you will be prepared for labour and birth in many ways.
Many topics are covered including Movement & Breathe Class, Relaxation For Birth, Birth Doula and Post Natal Doula, mindfulness and most importantly connecting with baby and connecting with yourself.
Benefits of Pregnancy Yoga
10 Good Reasons for Practising Yoga While Pregnant
Preparation for Labour and Birth
A sense of sisterhood
Helps lower back, hips, chest, upper back, neck and shoulders
Deep breathing to calm yourself
Connect with yourself and your baby
Stretch, tone, relax
Safe postures for you and baby
Breathing and movement for labour
Time out for you
Relaxation
Birth Doula | What's it all about and what do they do? by Trudy
 A Doula enhances your experience, working alongside your Midwife. We work together to help you, in life's most beautiful experience. Your birthing partner is very important to me and they will be supported in every possible way.
Being a Birth Doula is amazing, I wish I had engaged in one with all of my pregnancies.  My own births led me here – when I work with a birthing couple we are all as one.  Noone is any better at anything, we all work together in harmony.  When there is peace, love, nurturing, right words at the right time, the birthing mother can relax into her body and be at total peace.  We can massage, belly lift, move and remind her to breathe, this is an experience that she will always remember.
I love birth, being the voice between birthing mother and medical staff, I love working alongside everyone, it's a moment in time that everyone remembers, Mother, Baby, Birthing Partner, Staff, Doula.  There are so many comfort measures that can be used and are used when I am in birth suite.
Our first meeting is obligation free: a coffee and chat – call/text 0448104642 or email trudy@yogawithtrudy.com.au so we can organise a time that suits us both.
Birth is a personal journey so we need to make sure we are a good match.  A connection of calm and trust between birthing mother, birthing partner and birth Doula is very important.
If you engage me as your Birth Doula, we will be chatting a lot, emailing, texting and meeting for coffee. This is a life changing journey you are on, and only you know what you need, I'll provide information that unlocks feelings and emotions within you so you know how you want your birth to play out, what you do and do not want. We work through any fears and concerns and work around them.
Two Prenatal gatherings at a coffee shop or my studio filled with love and everything birth related.
Exciting times ahead as we meet for a Movement and Breath Class that entails invaluable information for you and your birth partner.  This includes labour positions and breathe work, how to make you more comfortable.  This is a 2 hour class and be prepared for lots of laughter as we have a great time in every class.  Click here to enquire for more info.
I am always here for you – call, text, email, my phone is always with me, ask me anything.
Creation of your birth plan is an exciting time, we write down everything as we discuss what you do and do not want, put it all together and when you are happy with it pop it in your labour bag.
I am honoured to be on call for you from 37 – 42 weeks.
My role is emotional and physical support (non medical) I encourage you all the way.
Labour and Birth attendance, I do not leave your side from when I am notified of established labour to when you are 'all' comfortable and settled in your 'bubble of baby bliss'.
Two x one hour debrief following your birth.
I am that wonderful, nurturing, loving person with knowledge, wisdom and trust. I am the 'glue' that helps keep it all together.
Spinning Babies | What is it? by Trudy
Spinning Babies is just the best – im the only person in Australia to teach – Spinning Babies Parent Educator Class – and that in itself is huge as we are helping Change The Way We Birth On Earth.
I went to Minneapolis in April of this year to learn from the very best in the birth world but I can away with so much more.  That being knowledge, friendships were ignited from all over the world, there were 40 of us and it was truly a magical experience to be there and to learn with these people.  At one point there was a snow blizzard and that prevented us from leaving our hotel, so we all met downstairs ordered from the limited menu at the bar and sat and talked for hours on end about birth, pregnancy, our own lives, our work, etc.  The conversations just flowed and I loved it.
Spinning Babies helps women to become more aware of their body, balance, movement and gravity.  When everything is right and no tightness in the hips, lower back or pelvic region – we do this by child birth education, 3 sisters of balance and everyday essentails, baby should move into the correct position during pregnancy and be in the ideal position for birth.  It's the most amazing knowledge to pass onto anyone really, but during pregnancy its essential.
Im in love with what I am able to do to help women, to be able to move, breathe, stretch and meditate, to child birth education to being their birth doula and post natal yoga.
written by Trudy Vains
How interesting is Trudy and her amazing journey helping support, encourage and educate pregnant Mothers?
It was a pleasure meeting and chatting to Trudy and taking photos of yoga poses. Stay tuned for more information and photos of Trudy and her local yoga business in Burpengary.
I am so fortunate to be a part of an amazing group of talented photographers who are inspired by life and capturing it's beauty with photography. This is a circle blog.  Please take time to visit the very talented and creative  Sharleen to see what she has for you this month. Keep following the circle to see what the other photographers have shared this month. Don't forget to leave a little love on their pages.